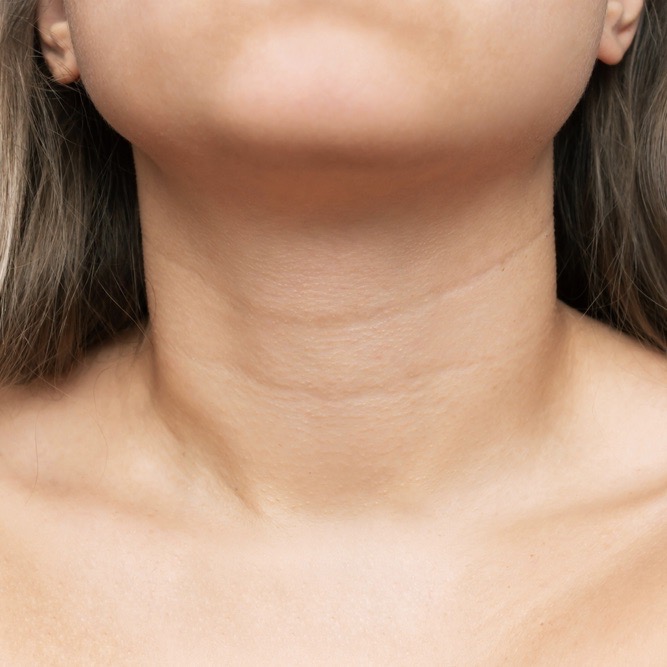 Neck wrinkles are an early sign of aging that is bothersome to many of our patients. Although almost everyone is bound to have wrinkling at some point, there are a few things (including Botox in Kelowna) that can be done to treat and prevent neck wrinkling. Dr. Chetty offers a variety of innovative holistic cosmetic treatments for neck wrinkles in Kelowna. Here is everything you need to know about neck wrinkles and how you can treat this early sign of aging.
What Causes Neck Wrinkles?
Neck wrinkles and horizontal necklines are an inevitable part of aging. As we age, collagen production decreases and the skin loses elasticity, resulting in wrinkling and loose, sagging skin. Chronic flexion (aka tech-neck) of the neck contributes further to horizontal necklines. Fat changes in the neck exacerbate the appearance of neck wrinkles. Additional factors like sun exposure, smoking, alcohol, and a poor diet can also speed up skin aging and worsen the appearance of neck wrinkles.
How to Prevent Neck Wrinkles
Although wrinkles might not be completely preventable, many lifestyle factors contribute to neck wrinkles. By adjusting your routine or taking the following precautions into consideration, you can prevent and improve the appearance of neck wrinkles.
Avoid Excessive Sun Exposure
The sun is one of the main causes of loose skin, wrinkling, and other signs of skin aging. Try to limit your sun exposure by wearing broad-spectrum sunscreen with SPF 30+ daily. If it is a sunny day or you are outside for an extended period, reapply your sunscreen every 1-2 hours. Sunscreen should be worn on the face, neck, decolletage and all other areas exposed to UV light.
Don't Smoke
Smoking is another common cause of premature skin aging. Tobacco damages collagen and elastin, which are proteins in the skin that gives it elasticity and a firm texture. Nicotine causes the blood vessels to restrict, preventing the amount of oxygen the skin receives. If you currently smoke, it's not too late! Studies have found that your skin can heal if you stop smoking.
Use Retinoid Cream
Retinoids or retinol is the gold standard in anti-aging skincare products. Retinoids are derived from vitamin A, and they stimulate the production of collagen, new blood vessels, and cell regrowth. These new cells and collagen production will tighten loose skin and smooth wrinkles or horizontal necklines. Dr. Chetty can recommend effective medical-grade skincare products with a higher percentage of retinol than over-the-counter products.
Apply Vitamin C Serum
Vitamin C can restore sun-damaged skin or skin that has been damaged by free radicals in the environment. Free radicals include UV rays, pollution, cigarette smoke, etc. Vitamin C has antioxidant properties that can brighten the skin and improve fine lines and wrinkles on the face and neck. Medical-grade skincare from ZO Skin Health often has vitamin C products designed for wrinkle treatment.
Moisturize
Many people forget to moisturize their necks, but this should be an important step in your skincare routine. Don't forget to moisturize your neck and decolletage when you moisturize your face. Keeping the skin hydrated and plump will lessen the appearance of wrinkles and prevent future wrinkling. Moisturizers with hyaluronic acid have an intense hydrating property that can be especially beneficial for horizontal neck lines and wrinkles.
Cosmetic Treatments for Neck Wrinkles
At Cerulean Medical Institute, we offer several skin rejuvenating treatments that can improve the appearance of neck wrinkles and refresh your youthful appearance. Some of our favorite treatments include:
Body Contouring and Skin Tightening
Our body contouring treatments are some of the most popular non-surgical procedures we offer. Innovative technology with radiofrequency (RF) and ultrasonic energy is a great alternative to a neck lift. RF and ultrasonic energy generate heat that triggers the production of new collagen and elastin. This tightens, firms, and plumps the skin to improve mild skin laxity and neck wrinkles, including horizontal neck bands.

Dermal Fillers
Hyaluronic acid dermal fillers offer a softening and hydrating effect with gradual improvements on necklines. We also use Radiesse which is a skin biostimulant that produces more collagen and elastin to soften neck wrinkles.
Microneedling
Microneedling, also called collagen induction therapy, triggers the body's natural wound-healing response and production of collagen. New collagen slows down skin aging and plumps the skin to diminish the appearance of wrinkles on the neck, face, and other areas of the body. Microneedling can also improve sun-damaged skin, scarring, uneven skin tone, and rough skin texture.
Botox
Botox is one of the most well-known wrinkle treatments. This popular injectable is made from botulinum toxin type A, that temporarily relaxes muscles and the formation of fine lines and wrinkles. Botox can be injected along the jawline and neck muscles to smooth neck wrinkles and redefine the contours of the lower face.
Chemical Peels
Chemical peels are commonly used on the face, but they can also be used on other areas like the neck and hands to brighten skin complexion and smooth fine lines and wrinkles. We offer a variety of medical-grade chemical peels in Kelowna with different strengths and different ingredients. Dr. Chetty will discuss all your options at your consultation to determine the right one for your skin type and skin concerns.
IPL & Laser Neck Treatments
Intense pulse light photorejuvenation and laser treatments of the neck soften horizontal necklines and tighten the skin of the neck. These benefits along with improved skin texture and tone after results in a more youthful looking neck.
Neck Wrinkle Treatment in Kelowna
At Cerulean Medical Institute, Dr. Chetty and our team specialize in long lasting natural results. Call our Kelowna office on (778) 760-5050 to schedule you consultation today.