Chin Augmentation: The Key to the Perfect Jawline
Chin augmentation and chin enhancement treatment procedures at our Kelowna skin care clinic continue to grow in popularity. Patients are enjoying the immediate results and minimal to no downtime associated with injectable fillers. With use of newer generation fillers and advanced injection techniques at Cerulean Medical Institute, we are able to augment the chin for an enhanced jawline. Non-surgical chin augmentation benefits are illustrated by way of improved contours giving strength and balance to the facial profile overall.
---
Chin Augmentation Benefits:
Corrects chin deformities, asymmetries and imbalances improving facial shape and strengthening the facial profile
Enhances the jawline medially or centrally and laterally or on the sides
Minimal to no downtime associated with injectable filler treatments
Replaces lost volume evidenced by retrusion, associated with aging and stress
Stimulates new collagen formation resulting in healthier looking skin
Lip shape and volume are further enhanced especially when sitting on a well balanced and augmented chin.
Softens lower facial lines and folds e.g marionette lines, nasolabial folds or smile lines, melomental folds etc.
Facilitates tightening of saggy skin over the lower third of the face and upper third of the neck
Improves the cervicomental angle or chin neck angle resulting in decreased submental fullness or under chin sagginess
Complements Botox and Skin Tightening treatments for an holistic approach to facial enhancement and rejuvenation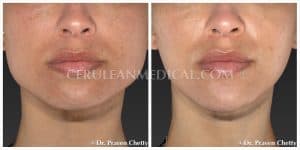 There is a vast array of innovative and advanced dermal fillers available to our patients at our Kelowna skin care clinic. The fillers range from Juvederm to Belotero, Radiesse to Teosyal, etc. which differ by way of their unique constitution and duration of action. These factors are taken into deep consideration during our customized treatment approach. The beauty of fillers lie in the fact that results are seen immediately and there is no downtime and risks associated with plastic surgery.
At Cerulean Medical Institute we specialize in delivering natural looking results. Call us on (778) 760-5050 today to book your Chin Augmentation treatment and say hello to an enhanced and rejuvenated you. You deserve it.
Praven Chetty, MD, CCFP, DPD, DAAAM
Medical Director @ Cerulean Medical Institute, Kelowna, BC.
Copyright 2019.